"Eagle Down; The Last Special Forces Fighting the Forever War" is a powerful book by Jessica Donati that is receiving high praise from many including Sebastian Junger.  Jessica currently covers foreign affairs for the Wall Street Journal. She was the bureau chief in Kabul in 2015 and lived four years in Afghanistan.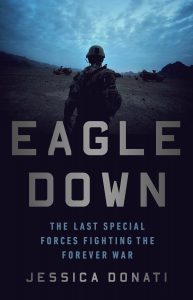 Eagle Down tells the personal stories of several Green Berets posted to Afghanistan conducting "training operations" following the official declaration that the "longest war in American history was over". The book covers many of their missions in detail both heroic and heartbreaking. Jessica was motivated to write this book because the messaging that the government was sending out did not align with the reality on the ground. These Green Beret "advisors" were often at the tip of the spear in combat operations.
She covers several missions where Green Berets were sent in to recapture positions taken over by the Taliban, often without proper equipment or air support due to the restrictive rules of engagement.  This created very real tensions between the soldiers and command leadership.
Jessica was embedded with Afghan commandos and says they are great fighters and very impressive. However, their own leadership could not always get them air support or even paychecks. She says that the average Afghan simply wants peace.
We are also joined by journalist Jessica Stone who is part of a group of humanitarian aid professionals involved with the Afghanistan Transit Initiative. They are working to help get at risk Afghans to safer locations so they can be evacuated. They have 375 individuals in their first wave to move to safer locations. Funds will be used for transportation and life support services while their permissions and paperwork are processed. You can help by making a donation here.
TAKEAWAY: "I don't know if there was a way to win but there were certainly several different ways to lose."