The Office of Special Investigations is an Air Force unit whose mission includes investigating felony level crimes and conducting counter intelligence operations.  They are highly trained and this show discusses a rather unique training exercise implemented by the Commander of OSI Detachment 217.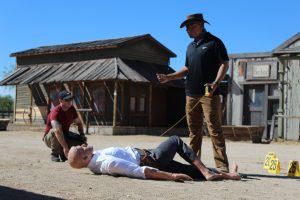 While assigned duties at Davis-Monthan Air Force base, Lt. Colonel John J. Hoffman and his wife visited Tombstone, Arizona and took in a gunfight re-enactment. It struck him that it would be interesting to do crime scene training on a movie set.  He ran the idea up the chain of command and before long was undertaking Operation "Lights, Camera, Training".
The Mescal movie site is located outside of Benson, Arizona and has been the filming location for over 80 movies including the 1993 version of Tombstone starring Kurt Russel. OSI Agents, Security Forces Investigators and members of the Judge Advocate General's Office were dispatched to the remote site for the day. "Crime scenes" recreating the murders of Morgan Earp and Tombstone Town Marshal Fred White were staged at the same locations used in the film. Authentic old west props, fake blood and "victims" provided by the fire department added to the "authenticity".
Participants then undertook crime scene investigations.  The purpose of the training exercise was to help agents identify what elements are important and to collect the evidence and document the scene in a manner that would be presentable in court.
John is a patrol supervisor for the Outagamie County Sheriff's Department and is also a member of the Air Force Reserves. OSI Reservists are usually Individual Mobilization Augmentees and are assigned to fill slots as needed.  Over his career, John has been assigned to seven different OSI Detachments.
TAKEAWAY: Given the average age of the participants, many had to watch the film Tombstone for the first time before participating in the exercise.