Declan James Watch Company founder Brian Dougherty is applying the attitude and mental toughness he was taught as a Navy SEAL to help with his career as an entrepreneur.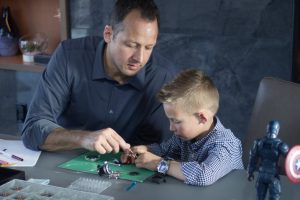 Excerpts from the SEAL's creed give credence to his belief. Examples include; "We demand discipline. We expect innovation. The lives of my teammates and the success of our mission depend on me – my technical skill, tactical proficiency, and attention to detail. My training is never complete."
Brian thinks he may have been just as happy in the Army Special Forces but as a young man he began applying SEAL exercise techniques and built a particular fascination with the Navy teams.  At the age of 28 he was lacking motivation and a supervisor suggested that maybe he should join the SEALs before he regretted not doing so. He made two deployments with SEAL Team 7 as an intelligence specialist and served one tour as a BUDS instructor.
He founded the company with the idea that a fine watch is rooted in legacy and tradition. He wanted Declan James Watch to teach his sons the keys to success in entrepreneurship. The company is named after his first son. "Running a business is very much like looking to the guy the right and left of me at BUDS. Rolex started out as a small company too."
Brian was referred to American Warrior by successful Veteran authors Andrews & Wilson. They practice a collaborative philosophy of doing whatever they can to lift up other Veteran entrepreneurs.
"When I left active duty it was the second time I fell in love with America. The Veteran community has opened their arms to me and offered to help me in so many ways. This represents the core values of what America and the military are all about." The SEAL Future Foundation has also been a phenomenal help to Brian.
TAKEAWAY: "I want YOUR child to call MY son up someday and ask him about the watch he received from his father."